Since the modern world basically demands that you have a website, making sure that you go about setting it up properly does require some focus. You can't just type www.yourname.com, put a few pages on it and expect it to work. You need to treat it as cautiously and professionally as you would any other business-related decision. Same goes for your email.
How to make the most out of your business website
Since most of the world does their research online when taking a look at businesses near them, your website is (hopefully) the first or second link that they come across when they find your business name. Since first impressions are critical, you'll want to make sure that your website looks professional, is accurate, and attracts the viewer. The right website may win you a sale or potentially lose you one.
Pick a domain name that is professional and accurate:
While a lot of domain names are taken, you still need to pick an accurate one for your business and use it for your website domain name. Take your time with this step, as you can't often change this once you select it.
Choose the right hosting service for you:
Hosting is a key part of the website that you create.  There are some website builders that allow you to host through their system, but they often have restrictions.  It's best if you find a hosting service that works for you and your business' needs and preferences including security, storage and plug-ins.
Design the website carefully
Whether you want to take a DIY approach, or hire someone to design your website, choose it carefully.  Focus on the look of it as well as its layout and the content and images that you are using.  They all matter to the viewer.
Update it frequently
As your business grows and shifts, remember to upgrade your website and its content to match it.  The worst thing is to have outdated information (especially contact information or pricing).
Why a business email matters

The business email that you choose is almost as important as the website that you design. If you have an email that reads, for example,
John2445@yahoo.com, the viewer may see it as being sketchy or, at the vert least, unprofessional. On the other hand, John@YourCompany.com does look and feel professional. It will earn the confidence of the viewer much easier than the first example.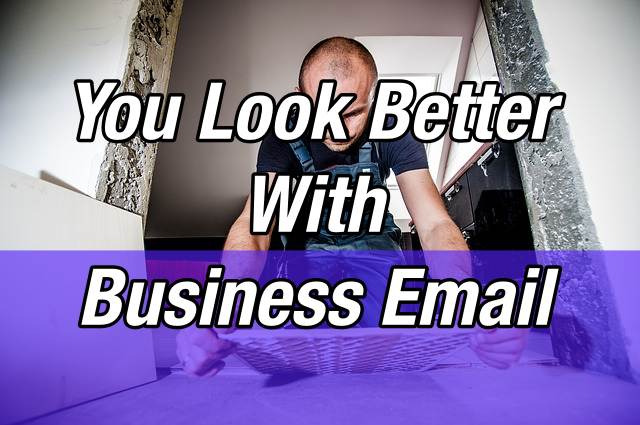 What does this all mean?

To put it simply, the viewer has a lot of options available to them out there. If you want them to choose you and your business, make sure that you're worth choosing in what you are offering them. A professional website and a business email could be just the tools to show them that you take what you do seriously and that they should trust you with their business. So, you'll want to make sure that you put the proper effort into both of them.