Why Get A U-Pull-IT Junkyard Website?
Get an affordable u-pull-it junkyard website now to get in the online game. If you don't already have an online presence for your business, not only are you missing out on so many leads and sales, but you are allowing your competitors to take all the good customers away.
What a U-Pull-IT Junkyard Website Can Do for Your Business
Whether you own a local u-pull-it junkyard or a used auto parts salvage yard, you could benefit big time by having a website. Businesses today depend on technology to survive. Besides, there is no reason not to have a business website. They are cost-effective, can contain all the answers to your customers' queries, and you can bet your competitors have one. Thus, our websites are loaded with features, such as:
Fully Editable CMS Website
SEO Optimization Built-In
Quickly import 1000s of cars with bulk upload
Easy to understand functionality with "No Code" backend
The following are just some reasons you need a website for your business.
Searchable and Shareable Vehicle Inventory List
Make it easier for your customers to search through your vehicles by listing them on your website. Your customers will be able to browse through the list by make or model whenever they choose to. Thus, you can add any information you want to your inventory lists, include photographs, any problems with the vehicle, price, and more important information. This also allows users to share your listings with friends who may be looking for certain parts for their vehicle project.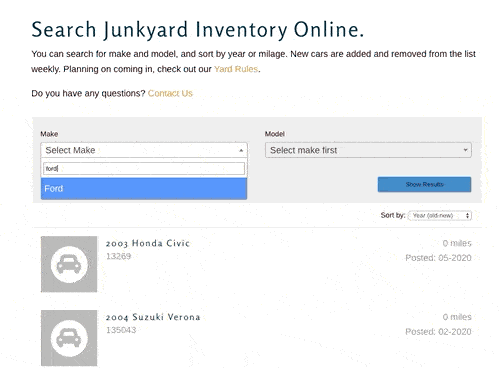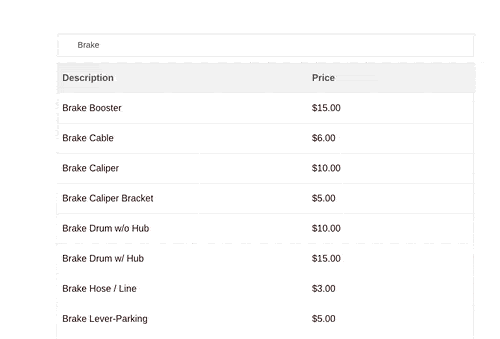 Dynamic Price List
It may not seem easy to add thousands of parts that each car has as well as prices for each, but Weekend Web Solutions make it fast and simple. We can help make your list thousands of parts long for your customers to quickly search through for the parts they need. They can search by the name of the part, and the results show up instantly with details about the part and pricing.
Tailored Website Design Built Just for You
If you are looking for the best website solution for your business with no compromises, we can help. Weekend Web Solutions creates the perfect website just for you where you can feature thousands of vehicles with the capability of full schema markup, which means your listings will also appear in Google search results.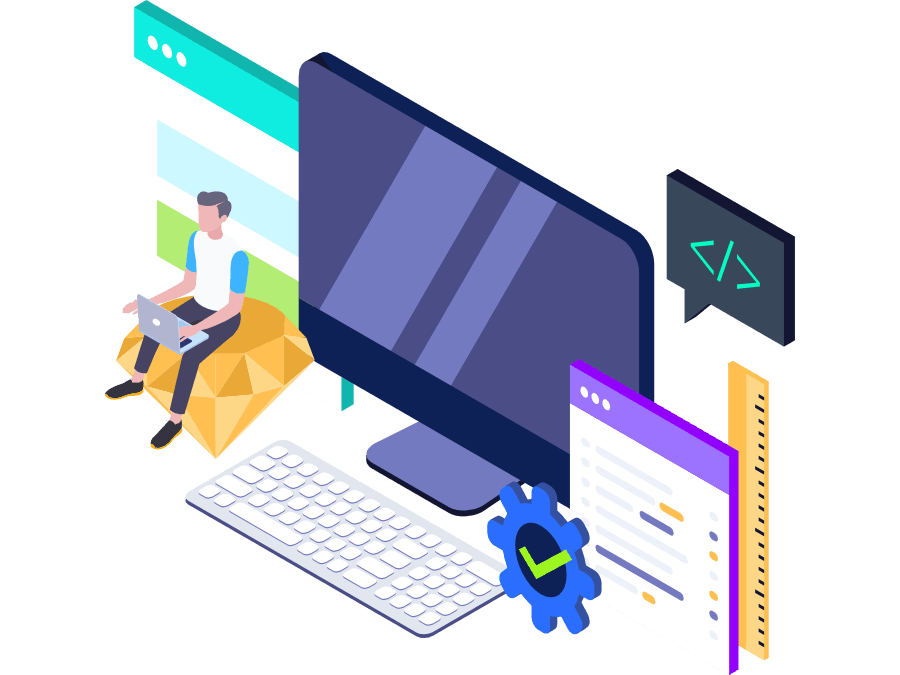 Have an Online Presence
Where can prospective customers go to find out more information about your business, like what you have to offer, how much you charge, where you are located, what time you open and close, and more? You will no longer have to take the time out to answers these questions when it is all provided on your website.
Build Customer Loyalty
Your website can help you build trust by sharing your company information with the world. You can share your history, how your business got started, how it got its name, the challenges you faced, and how you progressed over the years. Sharing your story with prospects helps build respect, loyalty, and even gain a bigger fan base.
Get Listed on Google Search Engine
When people are looking for vehicle parts, they will usually search in Google to find what they are looking for. If your site is optimized correctly, Google will send hundreds or even thousands of buyers your way. This is like getting free advertising, and we know how to optimize your website to show up on search engines. In fact, this is one thing we do best and why many of our clients love us.
Promote Sales and Events
You can post current sales or events you are having right on your website and provide all the information your customers need to take advantage of your offers big savings. You can also have a newsletter that will allow you to learn more about your customers and send them special offers and promotions by email. Your customers can sign up right from your site. Reach a bigger audience by linking to social media platforms where you can post engaging content relevant to your business.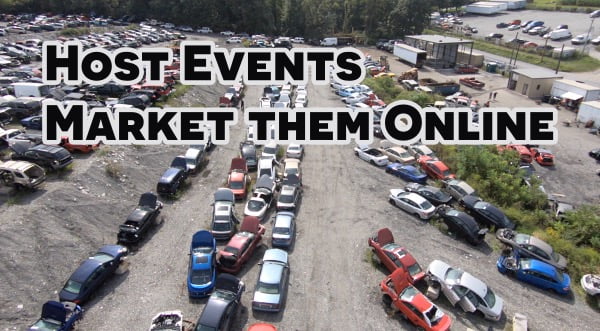 Business Growth
Every business wants to expand and reach more customers. While a lot of business comes from word-of-mouth, and face-to-face interactions are important, having a website allows you to show your business to people worldwide. Through a well-made website, you can expand and sell your car parts to thousands of more customers and have them shipped worldwide, while you can still sell locally. We can help you reach many more potential buyers all across the globe.
Gain a Competitive Advantage
These are challenging times for all businesses since there is so much competition in almost every industry. Due to the pandemic, more and more people are shopping online, and chances are your competitors already have an online presence. Therefore, if you don't have a website where people can shop for your products online, your competition will get all the businesses that could have potentially been yours. Weekend Web Solutions can help you gain an advantage over other junkyards selling online, with a well-built and optimized website unique to your business.
We Are Your Best Source for Used Car Lot and Junkyard Websites
Weekend Web Solutions specialize in building seamlessly integrated used car lots and u-pull-it junkyard websites that can save you time by referring your customers to your website for answers to the questions they have about your business. Our sites allow you to add thousands of u-pull-it yard inventory listings with our strategic solution, so your customers will enjoy fast search results when searching for specific parts. They can simply browse through your salvage yard inventory and view by the make or model of a vehicle and get all the details you provide. Add all the information you like to your listings, such as images, prices, and more details. Let us help build your website, and expand your business to a global audience and watch your sales margins skyrocket.